Your Organization
---
We offer your organization technology solutions to automate workflow processes thus improving overall efficiency and optimization. Robotic Process Automation (RPA) can be the foundation for your organizations' digital transformation. With our RPA solutions, getting the most out of production, customer service, and back-office tasks is timely and cost-effective. RPA has the flexibility to be applied in any department able to handle tasks such as:
Finance & Accounting
Supply Chain management
Customer services
HR services
Utilizing the flexibility of RPA technology, we can lead your organization through a digital transformation to optimize existing process performance and improve overall operational efficiency regardless of the industry.
Process Identification and Assessment
---
We assess your organization to understand business goals and automation potential for identified processes and departments. By understanding your infrastructure and business goals we can determine the type of implementation – on-premise, cloud, or hybrid – that best fits your needs. As we develop an implementation strategy, our team maps expected process automation benefits, helps establish a Center of Excellence (CoE), and evaluates identified processes for RPA suitability.
Organization assessment & automation potential
RPA opportunity discovery & assessment
Process analysis, evaluation, & selection (Process Selection Workshop)
Performance metrics criteria definition
Documentation of process automation and exceptions
Impact & risk assessment
High-level implementation plan & expected benefits
Center of Excellence (CoE) creation
Solution Design & Development
---
Prior to development, we validate the process to ensure the automation solution is applicable and the expected benefits are understood. As we begin the development, while following best practices for the solution, we work with your organization to optimize the target processes and ensure compatibility of all applications necessary for implementation. Once the process is optimized and the solution is developed and tested, we move to integrate into the production environment.
Proof of Concept
Automation solution development
Testing & UAT
Documentation of initial solution design with all business and technical exceptions
Recommendations for governance & change management
Deployment
---
As we deploy the RPA solution, we provide support and operational training to ensure a smooth implementation process. Once implemented, our solution can be coupled with tools to monitor performance and ensure stability and expectations are met. After the solution is successfully implemented, your automation CoE works to identify further process improvement opportunities. You can manage your automation pipeline and utilize process discovery tools to identify automation opportunities which will help establish a culture of RPA throughout your organization.
Operational training & implementation support
Performance tracking
Change evaluation & fixes
Hyper care
Continuous Integration
Scalability & Hyperautomation
---
Our RPA solutions are easily adapted to changing organizational operations. With the ability to transfer any complex process to additional virtual robots, scaling to handle fluctuating workloads is simple and cost-effective. RPA technology is a flexible solution to any changing organizational environment. It offers new opportunities to realign human capital for strategic initiatives and introduces increased operational agility to your organization.
Hyperautomation brings together several components of process automation, integrating tools and technologies that amplify the ability to automate work. It states with robotic process automation (RPA) at its core and expands automation capability with artificial intelligence (AI), process mining, data analytics, machine learning, natural language processing, and other advanced tools. The idea is to automate more and engage everyone in an organization to be part of the digital transformation. Our talented, certified developers can recommend and build the best solution that introduces smart, robotic automation into your workforce. Establish RPA as a core asset with RPA best practices and your governance framework as a part of your organization-wide practices. Improve RPA effectiveness and bring intelligence to your automations through hyperautomation.
Recommendations for continual management of an automation pipeline
RPA process improvement assessment
Recommendations for prioritization of further initiatives
Automation enhancement with hyperautomation
RPA as a service offers the benefits of RPA without the upfront expenses and time-consuming infrastructure setup as well as on-going maintenance and support. By choosing a Cloud-based RPA option, you gain an expedited RPA implementation process using a tested and proven RPA infrastructure alongside NITCO's implementation expertise to avoid initial cost and training requirements. Additionally, our service offers easy scalability and can complement legacy systems to bring outdated yet vital systems into the digital age.
The RPA as a service infrastructure is already installed and configured in the Cloud offering a quick and painless start-up process. Additionally, this removes the need for on-site hosting in your internal IT infrastructure thus reducing implementation time and initial investment.
By removing the large up-front investment that comes with traditional RPA implementation, RPA as a service provides a cost-effective option that offers you the benefits of automation with no capital investment.
Our RPA as a service option allows you to choose when and how fast to scale your automation initiatives. With our proven RPA infrastructure already in place, scalability is available to offer more flexibility when expanding your RPA initiatives.
The Center of Excellence
CoE is an important factor in the success of RPA implementation, as it provides the platform to integrate and effectively embed RPA into an organization. Our teams will guide your organization through the process of selecting individuals to fill necessary roles and responsibilities, establishing a governance structure, and promoting both current and future RPA deployments through shared knowledge and resources. We analyze and prepare your organization to establish a CoE to manage and promote RPA thus enabling controlled and manageable implementations. The CoE provides a framework for all RPA projects within an organization to better manage the development and implementation of each automation project. Having an established CoE will both, promote RPA throughout your organization and lessen the complications of undertaking new process automation projects. With a CoE established, organizations are better equipped to manage changes, plan growth, and measure outcomes and benefits of each RPA automation. Strategically allocate resources enable enterprise growth and success.
Our health assessments utilize a rating scale based on the recommended best practices implementation approach, NITCO's real-world experience, standard project and accepted software development methodologies. This rating scale provides an in-depth summary of your current state technical and functional health, helps identify gaps and areas of improvement, and allows our specialists to recommend improvements to reach an enhanced future state.
By analyzing your RPA development practices, we can provide recommendations to improve your automation development life cycle, which can support successful deployments and continuous delivery of automation projects.
When evaluating each step of your implementation lifecycle, we provide you with a complete breakdown of each key activity, deliverable, and outcome to assist your organization in producing automation projects quicker and more efficiently.
We assess the current state of your infrastructure and applications to identify pain points and opportunities for improvement. With a comprehensive examination of the infrastructure, our experts can more accurately target any underlying issue which may cause future complications.
By analyzing the current state, our specialists identify deficiencies and inconsistencies in the RPA process lifecycle and strategy. We provide recommendations to improve your governance structure and strategy, aligning them to meet business goals more effectively.
Strategy
Develop operations and technology strategy recommendations to enable overall organizational goals.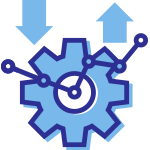 Assessment
Assess organization processes and applications to prioritize suitable process initiatives to gain maximum value.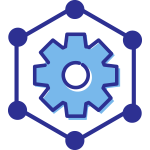 Implementation
Partner our technical and functional skills and experience with your organizational knowledge to implement the best automated process solutions for your needs.
Managed Services
Provide managed services for clients' Applications/Business processes and own maintenance.